Woodbridge Truck Accident Attorneys
Over 100+ Years of Experience Helping Victims of Big Rig & 18-Wheeler Wrecks in New Jersey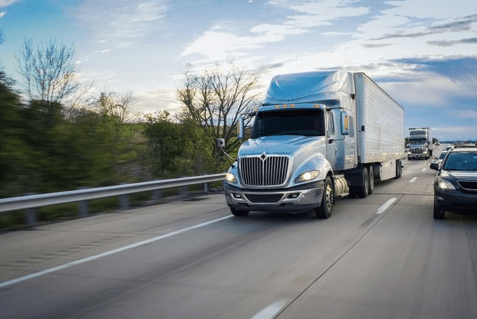 One of the most serious types of motor vehicle accidents in which you can be involved is a truck accident. Trucks, especially those loaded with cargo, are extremely large and heavy and can cause serious damage when they hit other vehicles.
At Palmisano & Goodman, P.A., our Woodbridge truck accident attorneys are here during your time of need to provide you with emotional and legal support.
On This Page:
---
To learn how the counsel of our experienced and focused legal team can protect your interests during your personal injury claim, call (732) 709-4400 or contact us online today.
---
Providing Sound Legal Guidance & Representation
We can give you a clear idea of the value of your case and then present your proof in clear terms both in settlement negotiations and at trial. Our accurate claim evaluation and formidable litigation skills can represent powerful advantages toward a favorable outcome for truck accident victims.
We advise clients about their legal options in a wide range of truck accident situations, including:
Semi or tractor-trailer accidents caused by driver fatigue, improper maintenance, or defective equipment.
Truck crashes involving jackknifes, overweight or oversize loads, freight shifting, loose flatbed loads, or other risks of operating an 18-wheeler.
Accidents involving commercial vehicles from taxis, airport limos, delivery vans, maintenance trucks, or construction vehicles.co
Wrongful death litigation related to fatal trucking wrecks.
Frequently Asked Truck Crash Questions
Semi-trucks are larger and heavier than other vehicles on the road and can be quite an imposing force on the road. Being involved in an accident with a large truck can have devastating financial and physical consequences, and after the accident, you may have a lot of questions about how to move forward, what you should do, and more.
The Woodbridge truck accident lawyers at Palmisano & Goodman, P.A. can not only help you understand your legal rights and option but can also answer some of the questions you may have after being involved in an accident.
---
To speak with a member of our team and get case-specific answers to your questions, contact our firm online or call (732) 709-4400 today.
---
---
If you still have questions or need experienced legal representation, contact our truck accident attorneys in Woodbridge. With over 100 years of collective experience protecting the interests of our clients, we can provide you with sound legal guidance. Call (732) 709-4400 today.
---
After being involved in a collision with a large delivery truck, big-rig, or 18-wheeler, many people understandably want to know how much they can expect to receive in compensation. After all, these accidents tend to result in severe, catastrophic injuries—and massive medical bills. Victims are often left unable to return to work while they obtain treatment and recover; in some cases, victims may suffer disabling injuries and be entirely unable to return to work for the remainder of their lives. It is completely understandable that truck accident victims and their families would wonder how they are going to be able to cope with these financial challenges and what compensation they could expect to recover by filing a truck accident claim.
Unfortunately, there really is no average settlement for 18-wheeler accidents; these cases vary widely depending on the unique factors involved. Some of these factors could include the nature, degree, and severity of your injuries; the current and future expenses associated with your damages; whether or not you were partially at fault for the accident; whether there were other motorists or additional third parties, such as parts manufacturers or maintenance companies, involved; the cause of the accident, and much more. In a given truck accident, a victim could sustain tens of thousands to millions of dollars in damages. 
Securing a settlement for the full extent of your damages is also not always guaranteed; if the trucking company or other liable party is unwilling to settle, your attorney will need to litigate your case and seek a just verdict at trial.
After speaking with you about the unique factors and circumstances present in your case, our attorneys can provide you with a clearer picture of what to expect. Remember: No reputable attorney or law office can give you a specific settlement amount to expect or guarantee any particular result. However, an accomplished truck accident attorney, like those at Palmisano & Goodman, P.A., can answer your questions and address any concerns you may have. We can guide you through the process and walk you through the next steps.
Representation for Truck & Commercial Accidents
Our extensive experience with the proof of liability and damages in complex, disabling or fatal truck accident litigation can help you collect the money you need to support what might be a long and incomplete process of recovery. We also work on a contingency fee basis, so you don't have to pay us until we recover on your behalf.
---
For a free consultation with a Woodbridge truck accident lawyer about your rights following a collision, please reach out to our firm today at (732) 709-4400.
---
What Sets Our Team Apart From the Rest?
We provide all clients with honest advice, energetic representation, and personal attention.
We work on a contingency fee basis, meaning that there are no fees unless we win.
We have upheld a tradition of superb service and results since 1974.
We offer free consultations for all prospective clients.
We get results because we invest in cases and we are willing to go all the way to a jury.

Wrongful death $10 Million

Pedestrian Struck by Vehicle $1.1 Million

Motor Vehicle Accident $4.5 Million

Car Accident $9.3 Million

Car Accident $3.8 Million
What Clients Are Saying
Read Our Reviews
I was extremely happy with the outcome.

"Thanks to everyone for their hard work! I would definitely recommend them to anyone that would need an attorney to represent them."

Truly amazing & knowledgeable.

"Thank you so much to the team at Palmisano & Goodman, it has been a pleasure."

He kept his word & guided me throughout my entire case.

"From the first day I stepped into Gregory Goodman's office I felt completely comfortable with him."

Your firm truly earned and deserved the Super Lawyers title.

"

Very courteous, kind, professional & punctual with time and actions.

"
Every Consultation Is Free & Confidential
Contact Us Today