Car Accident Lawyers in Woodbridge, NJ
Put 100+ Years of Combined Experience On Your Side
On the border with Philadelphia and New York City, New Jersey is home to many commuters. Even though many people take the bus or train into the city, there were still over 2,500,000 vehicles registered in New Jersey in 2020. With so many vehicles on the road, it's no wonder accidents are so commonplace in our Garden State.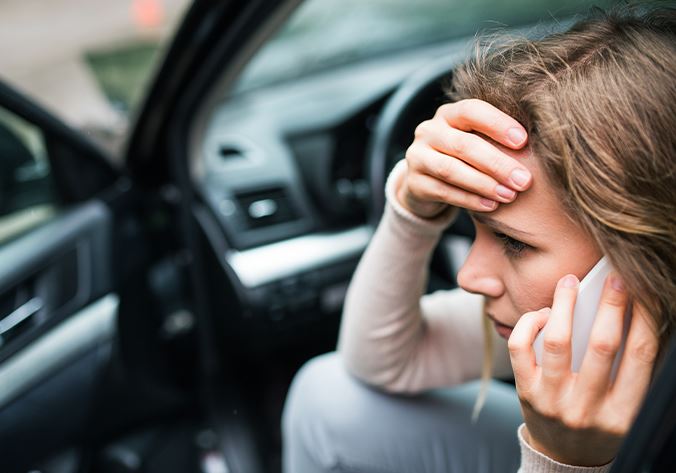 When a car accident happens, you need to know where to turn. Many lawyers brag about their ability to settle a claim but are not actually able to follow through and secure the compensation their clients deserve. You can expect better from Palmisano & Goodman, P.A.
If you or a loved one have suffered serious injuries in a car crash, our Woodbridge car accident attorneys are equipped to help you. With over 100 years of combined experience, we work tirelessly to help you achieve a positive case outcome. From helping you understand your legal rights and options to addressing your needs and concerns and fighting to protect your interests, we can support you throughout the entire legal process.
---
Get the legal assistance you need to secure maximum compensation after a catastrophic car crash in Woodbridge by calling (732) 709-4400 or filling out our online form.
---
Why Choose Palmisano & Goodman, P.A. to Represent You?
Palmisano & Goodman, P.A. has more than 100+ combined years of experience in personal injury practice, during which time we have represented cases with injuries ranging from minor broken bones to life-altering injuries. We have collected six-figure settlements and jury verdicts in soft-tissue injury cases that didn't initially seem serious in the immediate aftermath of the crash but worsened to become serious.
What clients have to say about working with us:
"He kept his word & guided me throughout my entire case." - Sam R.
"The entire team was very kind and professional. Highly recommend them!" - Becky P.
Types of Car Accident Claims We Handle
At Palmisano & Goodman, P.A., our Woodbridge car accident lawyers advise and represent people from all walks of life who have suffered injuries in a wide range of motor vehicle accidents, such as:
To get an accurate view of the value of your car accident case, it is important that you work with a car accident lawyer in Woodbridge who knows what to look for. Palmisano & Goodman, P.A. knows how to review and evaluate all the necessary facts in order to prove liability and recover fair compensation for the damages you have experienced.
Dedicated to Achieving a Positive Outcome
The heart of our practice is representing people who have suffered serious or disabling injuries. Our Woodbridge, NJ car accident attorneys are committed to correctly identifying and fully documenting the full range of your injuries and losses through strong evidence. We know how to develop the evidence, monitor your physical recovery, and work with experts who understand your situation. We then present that evidence in clear terms to give your claim the greatest possible chance of full compensation.
At the same time, we work closely with you and your family to make sure that you have the support you need to help you through the confusion, frustration, and anxiety that can affect anyone after a serious accident.
Auto Accident FAQs
Do I Have to Report the Accident to the Police?
If the accident results in an injury or death or causes property damage that is more than $500, the driver must report the crash to the local police department. The driver should report the accident immediately. If the driver is incapacitated or unable to make the report, the passengers should make a report on their behalf. In cases where there is not a passenger, the driver should make a report as soon as they are able.
Should I Go to the Hospital After the Accident?
You should seek medical treatment immediately after being involved in an accident. Even if you do not seem to have any severe injuries, it is best to be evaluated by a medical professional. If your injuries are internal or you are in shock, you will likely not realize how much serious your condition is.
How Much You Can Expect from a Car Accident Settlement?
How large your settlement offer is will depend on your:
Damages, such as your medical expenses, lost wages, loss of consortium, pain and suffering, and property damage.
Liability, as New Jersey has comparative negligence laws, your damages can be reduced if you are partially at fault for the accident.
Is There a Time Limit for Filing a Car Accident Lawsuit in New Jersey?
Yes, there is a statute of limitations (or a time limit) concerning how long victims have to bring a claim forward. In New Jersey, claimants have two years to file a personal injury claim in most cases. However, if the victim was a minor when the accident occurred, they may be able to file a claim until they turn 20 years old. In cases that involve the State of New Jersey, a county, or its employees, New Jersey Tort Claim laws will apply, which means that a special notice must be filed within 90 days of the accident.
If you are involved in a car accident, you should consult with an attorney as soon as possible. The sooner you contact a reliable attorney, the sooner they can advise you concerning your case. They have a firm grasp of the laws governing your case and can help you meet the necessary case deadlines.
Do Most NJ Automobile Accidents Go to Trial?
Most car accident claims can be settled before trial. However, whether litigation is required largely depends on your case specifics.
Do I Need an Attorney if I Have Been Offered a Settlement?
The insurance company and its representative adjusters do not have your best interest in mind nor do they represent you. When they calculate your damages and make an initial offer, they are trying to settle the case as quickly as possible for the lowest amount possible, which often means they offer you a lowball settlement. Before accepting any offers, you should retain our attorneys as we are skilled in the art of negotiation and have experience calculating damages.
Is New Jersey a No-Fault State?
New Jersey is a no-fault accident state. In a no-fault insurance system, when a car accident occurs, each party's own insurance provider covers their medical expenses and other financial losses, regardless of who was at fault in the accident. This system is intended to provide quicker and more efficient compensation to injured parties without the need to establish fault through a legal process.
Can You Still Sue in a No-Fault State?
New Jersey's no-fault insurance system offers both limited right to sue and unlimited right to sue policies.
While limited right to sue policies have lower premiums, you can only sue the at-fault driver if you suffer a significant injury, such as permanent scarring or disfigurement, a displaced bone fracture, amputation, permanent injury, or the loss of a fetus.
With unlimited right to sue policies, the injury victim can sue the at-fault party without needing to meet an injury threshold. However, these policies usually cost more and require the injured party to prove that the other driver was at fault.
Fighting for Your Right to Fair Compensation in Woodbridge, NJ
At Palmisano & Goodman, P.A., we are committed to representing people who have suffered serious or debilitating injuries. If you or a loved one have been involved in a major automobile accident, we can review and evaluate your case to help you understand your legal options, answer your questions, obtain evidence, and calculate your damages.
---
To fight for the full compensation you deserve for a serious car accident, contact us online or call (732) 709-4400 today. Our car accident lawyers in Woodbridge, NJ are ready to help!
---
Suggested Reading:

Wrongful death $10 Million

Pedestrian Struck by Vehicle $1.1 Million

Motor Vehicle Accident $4.5 Million

Car Accident $9.3 Million

Car Accident $3.8 Million
What Clients Are Saying
Read Our Reviews
I was extremely happy with the outcome.

"Thanks to everyone for their hard work! I would definitely recommend them to anyone that would need an attorney to represent them."

Truly amazing & knowledgeable.

"Thank you so much to the team at Palmisano & Goodman, it has been a pleasure."

He kept his word & guided me throughout my entire case.

"From the first day I stepped into Gregory Goodman's office I felt completely comfortable with him."

Your firm truly earned and deserved the Super Lawyers title.

"

Very courteous, kind, professional & punctual with time and actions.

"
Every Consultation Is Free & Confidential
Contact Us Today