Woodbridge Attorney Robert G. Goodman
Handling Complex Personal Injury Matters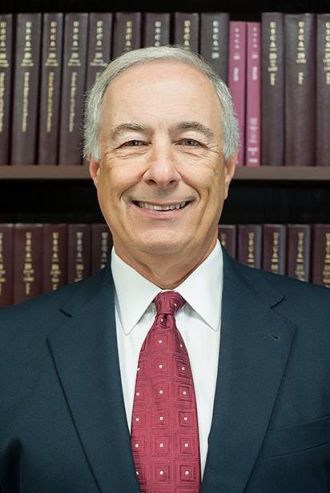 Since 1972, Woodbridge personal injury lawyer Bob has helped thousands of people injured by the carelessness of other obtain justice. Life-altering injuries and financial losses can devastate families. For over 40 years many of those families have come to Palmisano & Goodman for help. We are a family firm with family values. We treat our client as we would want to be treated.
Highly Skilled & Experienced
Bob's experience in representing people with significant injuries is almost unparalleled. He has been the lead attorney in over 500 jury trials, obtained over 40 verdicts and settlements in excess of $1,000,000.00, and recovered in excess of $400,000,000.00 for clients. His advice is often sought out by attorneys from other firms on difficult issues.
Bob is known by insurance companies as a tough litigator and respected for his wealth of medical knowledge and trial savvy. On many occasions, insurance adjusters have referred injured family members and friends to Bob for representation.
Personal Interests
Bob has always had a passion for sports. He was a member of the basketball and track teams at St. Joseph's High School and the rugby team at Fairfield University. He was promoted to a 3rd degree black belt in karate in 1971. He now spends his off time with five grandchildren and enjoys golf.
Education
St. Joseph's High School - 1965.
Fairfield University - 1969.
St. John's Law School - 1972.
Bar Admissions
Admitted to practice law in New Jersey State Courts and Federal District Court in 1972 and before the United States Supreme Court in 1977.
Awards & Recognitions
The highest possible attorney rating, Martindale Hubbell, AV.
Named a SuperLawyer by NJ Monthly in each of the past 12 years.
Designated a top 100 Trial Attorney in New Jersey by the National Trial Lawyer's Association.
Named a Top Attorney in the Metropolitan Area by Lexis Nexus.
Received the highest attorney rating by AVVO. (See client endorsements at AVVO.com)
Received the Judge Herman Breitkopf Award from the Middlesex County Trial Lawyers Association. The award is presented to the trial attorney who represents clients with integrity, honesty, and intelligence.
Recoveries
A $10,000,000.00 recovery for the family of a 16-month-old infant who died as a result of claimed medical negligence and unsafe medical devices.
A $9,300,000.00 recovery for life-long pain, suffering, and disability of a child born with brain damage caused by trauma to a mother's abdomen in a motor vehicle accident.
A $4,000,000.00 recovery for a truck driver who developed RSD as a result of a motor vehicle accident.
A $3,000,000.00 recovery for a construction worker struck on the head by a falling pipe causing a traumatic brain injury.